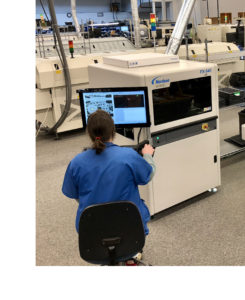 Since 1990, Electronic Design & Manufacturing (EDM) a PCB design and production services company is proud of its history providing customers with a high level of technical support and outstanding customer service which is confirmed by high customer retention.
EDM is a 100 percent employee-owned company (ESOP). Data shows that ESOP companies are more accountable to their customers, work faster and leaner, and develop happier employees who serve customers more effectively..
EDM prides itself on maintaining a strong financial position that allows it to provide the best terms to customers, maintain large material inventory to support changing customer needs, and invest in the most qualified people and equipment. EDM's customers can trust that the company has the resources to stand behind its commitments to them and minimize their risk. To continually meet this position, EDM partners with manufacturers that provide advanced technologies. Years ago, it engaged with Nordson YESTECH for a 2D AOI system. Since then, the partnership has flourished and, when EDM needed 3D AOI capability, the company turned to YESTECH for the purchase of the FX-940 ULTRA 3D AOI technology.
The system was set up on EDM's production floor earlier this year, and both the installation and training were successful. Training is vital for any AOI platform, and even more so with the multitude of added 3D capabilities, which is why EDM purchased the ULTRA.
"Adding 3D inspection to our AOI arsenal allows us to quickly inspect for co-planarity of chips, lead banks, and BGAs, which is not possible with any 2D AOI," said Dave McAden, EDM's CTO and VP of Sales. "Additionally, we can now verify volume and slope of every solder joint, which can provide more accurate data to help maximize yield. As part sizes continue to shrink, we are committed to consistently providing our customers with cutting-edge technology to meet their changing needs."
Nordson YESTECH's advanced 3D imaging technology provides EDM with high-speed PCB inspection and strong defect coverage. With one top-down viewing camera, four side-viewing cameras and 2D + 3D inspection, the FX-940 ULTRA inspects solder joints and verifies correct part assembly, enabling users to improve quality and increase throughput. Programming the FX-940 ULTRA is relatively fast and intuitive. Typically, it takes operators less than 30 minutes to create a complete inspection program including solder and lead inspections, and the system uses a standard package library to simplify training and ensure program portability across manufacturing lines. Advanced LED lighting and image processing technology integrates several techniques, including 3D inspection, color inspection, normalized correlation and rule-based algorithms to provide complete inspection coverage with an unmatched low false failure rate.
Not only was the installation smooth, but McAden added that Nordson YESTECH's customer service has always been excellent, which was another factor in EDM's choice of returning to YESTECH for this next level of inspection. According to McAden, David Cobb, Nordson YESTECH's trainer, was superb at describing all available inspection options. Additionally, he said that Nordson YESTECH's expert use of remote software tools allows for quick resolution of specific inspection challenges, providing the company with ongoing extra value 'after the sale.'
McAden added that EDM has relied on Nordson YESTECH AOI for many years. "Our existing YESTECH equipment still works fine for 2D inspections, but the ULTRA machine provides many added inspection capabilities. We ultimately chose YESTECH again because of proven reliability, ease of programming, and excellent customer support."
Those same qualities are what help make EDM so successful. As a US-based electronics contract manufacturer, its PCB assemblies consistently meet – and exceed – customers' expectations for quality, price and delivery. This is part of what differentiates the company and makes it more than just a PCB vendor. EDM provides a highly skilled, flexible and experienced design team that is committed to customers' growth and success.
By partnering with Nordson YESTECH, EDM believes its able to provide customers with the highest quality 3D AOI capabilities and continue fulfilling its mission of delivering superior PCB assemblies to every company they work with.
For more information on Nordson YESTECH go to www.nordsonyestech.
For more information on EDM, contact Rebekah Taylor, Business Development Manager, 31 Millrace Dr., Lynchburg, VA 24502; 434-385-0046; E-mail: rtaylor@edmva.com; Web site: www.edmva.com.