Thermaltronics Now Offers a Full Range of Soldering and Desoldering Cartridges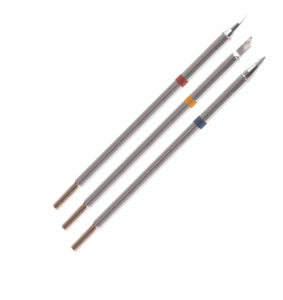 PERTH, AUSTRALIA ⎯ April 2018 ⎯ Thermaltronics, the leading manufacturer and supplier of a wide range of soldering products and accessories in the electronics industry, has announced the introduction of an extended range of soldering and desoldering tips, which are fully compatible with Metcal® MX, MFR & SP Soldering systems.
The company, which is certified to ISO 9000 & ISO 14000 levels of manufacturing, and with products produced to the highest levels of safety approval, including TuV NRTL, TuV Sud, GS (Higher German Standard), CE, CCC & CSA, is confident that considerable savings can be afforded to customers.
A spokesman for Thermaltronics stated that savings are not just limited to the cartridges (tips), but the entire range of soldering systems and accessories are all priced competitively. In fact, unlike many manufacturers, Thermaltronics publishes its list prices on their website, although any purchases have to be made through recognized distribution channels.
In today's manufacturing environment, "cost down" is a major challenge and generally only achieved through some reduction in functionality or by material changes. Thermaltronics has taken a different approach and instead, has completely reviewed manufacturing processes and improved efficiency, thereby enabling customers to benefit from their lower production costs with no loss of quality.
Full details on the Thermaltronics product range can be found at www.thermaltronics.com.